The ASEE PNW Section Conference organizing committee has rescheduled the PNW ASEE/WCERTE 2020 Conference. The new dates for the conference will be November 4th to 6th, 2020. As such, we have also reopen the call for paper submissions. Below are the new deadlines and attached is the revised author kit.
Deadlines (NEW)
Abstract submission opens: Apr. 10, 2020
Abstract submission: Aug. 7, 2020
Abstract notification: Aug. 21, 2020
Draft deadline (for full paper): Sep. 18, 2020
Draft notification: Oct. 2, 2020
Final paper upload: Oct. 9, 2020
Supporting Student Success by Strengthening our Educational Communities

Nov 4 – 6, 2020
Gonzaga University
Spokane, WA
The 2020 PNW Section Conference will take place at Gonzaga University in heart of Spokane, WA on Nov 4 – 6, 2020. This will be a joint meeting with WCERTE (the Washington Council of Engineering and Related Technical Education).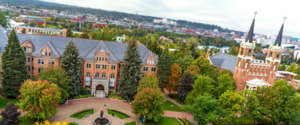 Links
Conference Highlights
Wednesday Evening Reception
5:00 – 7:00 PM: Registration at Centennial Hotel
7:30 – 9:30 PM: Reception at Jundt Art Museum – Gonzaga Campus, 200 E Desmet Avenue, Spokane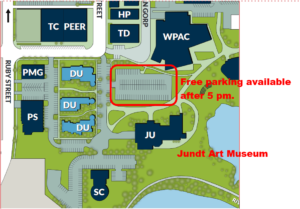 Thursday Events (All meals and Sessions at Centennial Hotel, 303 W North River Drive, Spokane)
7:30 – 8:00 AM: Registration
8:00 AM – 4:30 PM: Conference Activities*
6:00 – 8:00 PM: Dinner (more details soon)
Friday Events (Paccar Engineering Center, Gonzaga Campus)
8:00 AM – 1:00 PM: Conference Activities*
1:15 – 3:00 PM: Tour of University District on electric scooters (Avista Net-Zero Development including Cross-Laminated Timber (CLT) building and district heating and cooling and the University District Gateway Bridge). Other transportation options can be arranged for those not interested in traveling by scooter.
*As a joint meeting, the conference activities include sessions and workshops for ASEE-PNW and WCERTE including some joint round table events
Registration Information
$150 Registration fee (increases to $200 after March 13th)
$75 Student registration fee
$40 Thursday night (4/9) conference dinner.  (This is a separate ticketed event so be sure to check the box during the registration process).
Wednesday night (4/8) welcome reception is included.
Registration Link: [Click Here]
Distances and Estimated Walking Times
Centennial Trail Hotel and Engineering Center – 0.9 miles, 20 minutes
Centennial Trail Hotel and Jundt Museum – 0.6 miles, 12 minutes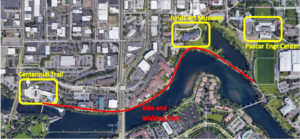 Transportation options
Car rental at airport
Hotel shuttle and loaner bicycles available upon request
 Lime bikeshare and electric scooters (back March 1st after break for winter season)
Spokane Transit (https://www.spokanetransit.com/routes-schedules/routes)
Walking path between hotel and other venues is completely separated from carsand is grade separated at road crossings
Hotel Conference Reservations
ASEE-PNW/WCERTE Conference Hotel is the Centennial Trail at 303 W North River Drive, Spokane. (Many may know it as the Red Lion RL Hotel but it was purchased by the Davenport Chain and was recently renovated).
Booking links will be posted at a later date.
RATES INCLUDE
Early check-in/Late check-out based on availability
Upgrade to next room category based on availability
Complimentary wi-fi throughout Hotel
Free Fitness Center access
Complimentary Event Parking
GUEST AMENITIES
Starbucks coffee/espresso/housemade pastries
Centennial Restaurant (Breakfast, Lunch, Dinner 6 AM – Close)
Happy Hour (M-F 3-6 PM)
Meeting Room and Catering Services
Bike Rental
Outdoor pool (seasonal)
AREA ATTRACTIONS
Riverfront (100 acre city park across the foot-bridge)
Centennial Trail (steps from your door)
River Park Square (Apple, Nordstrom, Nike Factory Outlet, Urban Outfitters)
Mobius Science Center
Museum of Arts & Culture (MAC)
Cork District (Regional wine tasting rooms /wineries)
Ale Trail (Northwest Craft beer tasting rooms/breweries)